The following blog is written by Sense Senior Producer, Melissa Parnell.
Meet Eli, a regular and welcome addition at the Sense office.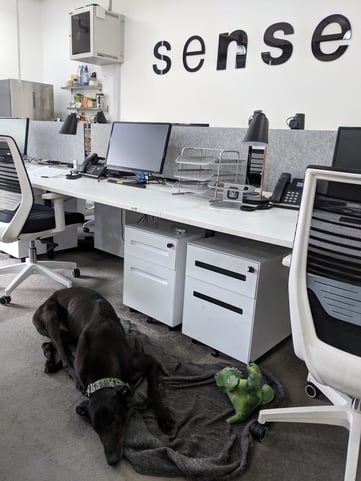 Eli is a 4 year old rescue Greyhound, who was abandoned at race tracks in South Australia just over a year ago now by his owner/trainer. We can't be sure exactly why but an educated guess would be that he wasn't performing, placing in races and perhaps most importantly, wasn't making them any money.
The greyhound racing industry in Australia and overseas is fraught with peril for the animals; abuse, neglect and doping are all common issues, before they are ultimately discarded/dumped, euthanised/killed - or caged for breeding purposes for the rest of their lives. The truly unlucky ones are sold/exported overseas, where they are victims of further exploitation by the racing industry - or in some cases, even sold and eaten.
Fear not. There are silver linings to this story...
Racing canine transporters exist, employed to move the dogs around the country to the various races in each state. Some of these transporters have partnered up with the rescue centres to assist with transporting the forgotten, neglected and abandoned dogs found around the country (usually between 3-4 years old, when the breed, in fact, have an average life span of 10 - 16 years old).
Eli was lucky to be collected by one of these very transporters and found a temporary home at Greyhound Rescue in Sydney. Eli arrived emaciated, covered in dandruff and open cuts and scabs. He'd obviously been living rough and had not been well cared for.
Greyhound Rescue was born from the hearts and home of husband and wife, Peter and Janet Flann. This passionate couple have worked with rehoming retired/rescued greyhounds for over 10 years and their initiative has grown to a team of wonderful volunteers that give all of the time that they can - but are in desperate need of assistance.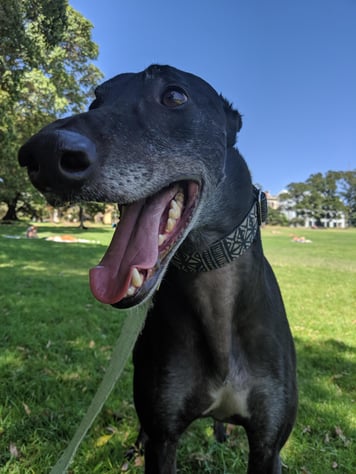 Currently, there are about 70-80 dogs in their care - at the rescue centre and being fostered in loving, caring homes. Over 1,000 Greyhounds have been successfully re-homed under their careful watch.
There are lots of chores involved in caring for 80 hounds. From cleaning, feeding, walking, washing, brushing, poo patrol, bucket filling, grass cutting, repairing and general maintenance. There's always something to do! If you are not able to participate in physical work, they also need volunteers to spend quality time with the dogs for emotional enrichment too!
The team at Greyhound Rescue love and care for the dogs - but also ensure that they are desexed, vaccinated, micro chipped, tested and treated for heart-worm and provide food, toys, coats, shelter etc. All of this while receiving no funding. They have close relationships with vets and training experts and work with them (and the dogs), to provide all of the tools that they require to be a pet - and part of a family/home environment.
With Eli and I, it was love at first sight. I saw his face on an instagram post from a lovely friend who works at Greyhound Rescue. She posted a video of a dog that had just arrived. She was sickened and saddened at the horrific state that he was in and how incredibly sweet and loving he was, despite his obvious abuse and neglect.
…. and it was written in the stars - HE WOULD BE MINE, AND I WOULD BE HIS!
Am I crazy? Oh yes, I am a crazy dog lady. However, in addition to this simple fact: I am beyond crazy that the racing industry in Australia still even exists.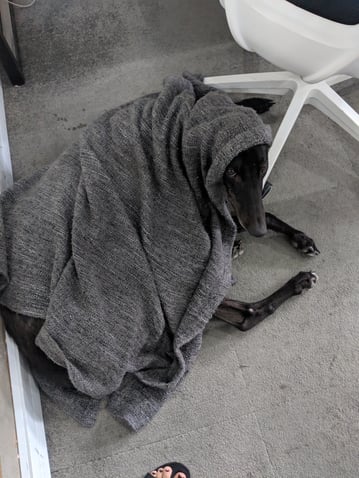 It saddens me to know that the original owner of Eli got away with the illegal dumping of a dog that he no longer wanted. Plus the knowledge that he still owns and trades dogs for racing.
I am also crazy about Greyhound Rescue. Greyhounds are sweet, warm, loving and incredibly entertaining. They are perfect pets and family members, despite being one of the worst treated dog breeds in the world.
If you come in to Sense, we hope that you can meet Eli and see for yourself.
If you wish to know more or help out, please see below:
Volunteer - Personal / corporate volunteering opportunities


Donate
Greyhound Rescue receives no official funding and are in no way linked to the Greyhound Racing Industry - unlike some other Greyhound rehoming organisations.
Greyhound Rescue are a not for profit organisation with full charity status.
ABN 89 282 387 425
CFN 21338
Greyhound Rescue holds DGR status and any donation of $2 or more can receive a tax-deductible receipt.
Events
There are various marches, rallies and fundraisers to raise awareness and funds for the cause. See the Greyhound rescue page or see Facebook and Google to find more information online.