5 technologies that transform a physical retail space
---
The brick and mortar store is still where the majority of retail purchases take place. But there's no denying that online shopping is steadily helping itself to an increasingly larger share of profits. A Business Insider report in 2018 stated that while online retail sales account for only 5% of total sales, that figure is growing at over 30% per annum. What is clear is the need for a harmonious relationship between the online and offline, and many of the global leaders in the retail space are bringing this to life via the technology they implement in store to make the physical shopping experience almost as seamless as the online one.
Online shopping is convenient, but the fact that offline sales still dominate the market tells us that people are still drawn to the sorts of experiences that only a physical store can provide. Shoppers (sometimes) are willing to forgo convenience for the social element, the tactile satisfaction, the instant gratification and the ability to interact with people and spaces that contribute to the overall instore experience. And if the space is unique enough, and if the consumer has a meaningful relationship, they will hopefully share that experience across social media to their followers.
Understanding that brick and mortar stores are far from dead, physical retailers are increasingly looking for ways to merge the online and offline experience and bring together the best of both worlds. More and more technologies, including those that first emerged through e-commerce, are being implemented to enhance the social and experiential elements of instore shopping through relevant, omnichannel experiences that empower consumer choice.
Here are five technologies transforming the way people experience the in-store retail environment, right now.
1. Augmented Reality
Unlike the totally immersive simulation that is Virtual Reality, Augmented Reality allows the user to interact with computer-generated content that's superimposed over the real-world environment. This ability to interact with virtual content within the store lends itself to a whole lot of exciting in-store applications.
Research from KMPH highlights the usefulness of AR when it comes to ideas like:
Creating emotional resonance – AR can foster greater emotional resonance to both physical objects as well as topics and ideas, by improving the sensory impact of an experience
Information accessibility – the tech has the ability to provide information in an instant, easy-to-understand and multi-sensory format
Creating compelling hypothetical experiences – the shopper can experience multiple scenarios (such as trying on different garments) in real time – a sort of enhanced try-before-you-buy scenario with a lot less manual and guesswork
Partly due to the release of Apple's ARKit and Google's ARCore development platforms, AR is already being widely adopted by the retail world.
Some of the worthy mentions include:
Interactive Environments
AR is all about seamlessly connecting digital and physical content. Last year, 7-Eleven in the US launched their first ever AR mobile app, aimed at fans of the movie Deadpool. Apart from letting fans snap selfies with Deadpool himself, the app encouraged users to hit up their local 7-Eleven in search of scannable "zap codes" to unlock activities, loyalty points and prizes.


Virtual Product Try-Ons and Smart Fitting Rooms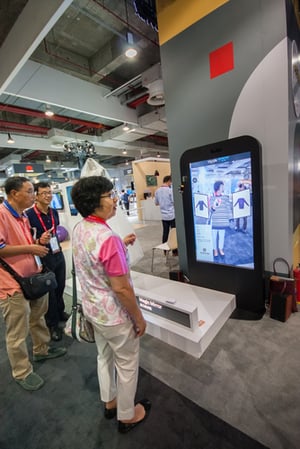 'Try before you buy' is one of the biggest advantages offline has over online shopping. Still, there's no doubt the whole fitting room rigmarole in a packed store can be off-putting. With AR, users can try on the dress they're eyeing off in varying colours and patterns, or matched with different accessories – even ones that aren't currently in stock.
The cutting edge smart fitting rooms by Oak Labs in Polo Ralph Lauren's New York flagship store make the fitting process more convenient and are an amazing tool for boosting add-on sales to boot.
Step in, and the 'smart mirror' assesses the fashion situation by identifying the digital tags attached to each garment brought in the room. Next, use the mirror's touch screen to select the best lighting for your solo fashion show. With each garment you try on, the mirror's visual display can provide information like in-store stock numbers according to size and colour, as well as recommendations from the stylist on what to partner with your chosen items. If a particular suggestion catches your fancy, a tap of the touchscreen will send a request straight to a sales associate.


2. Omnichannel Retail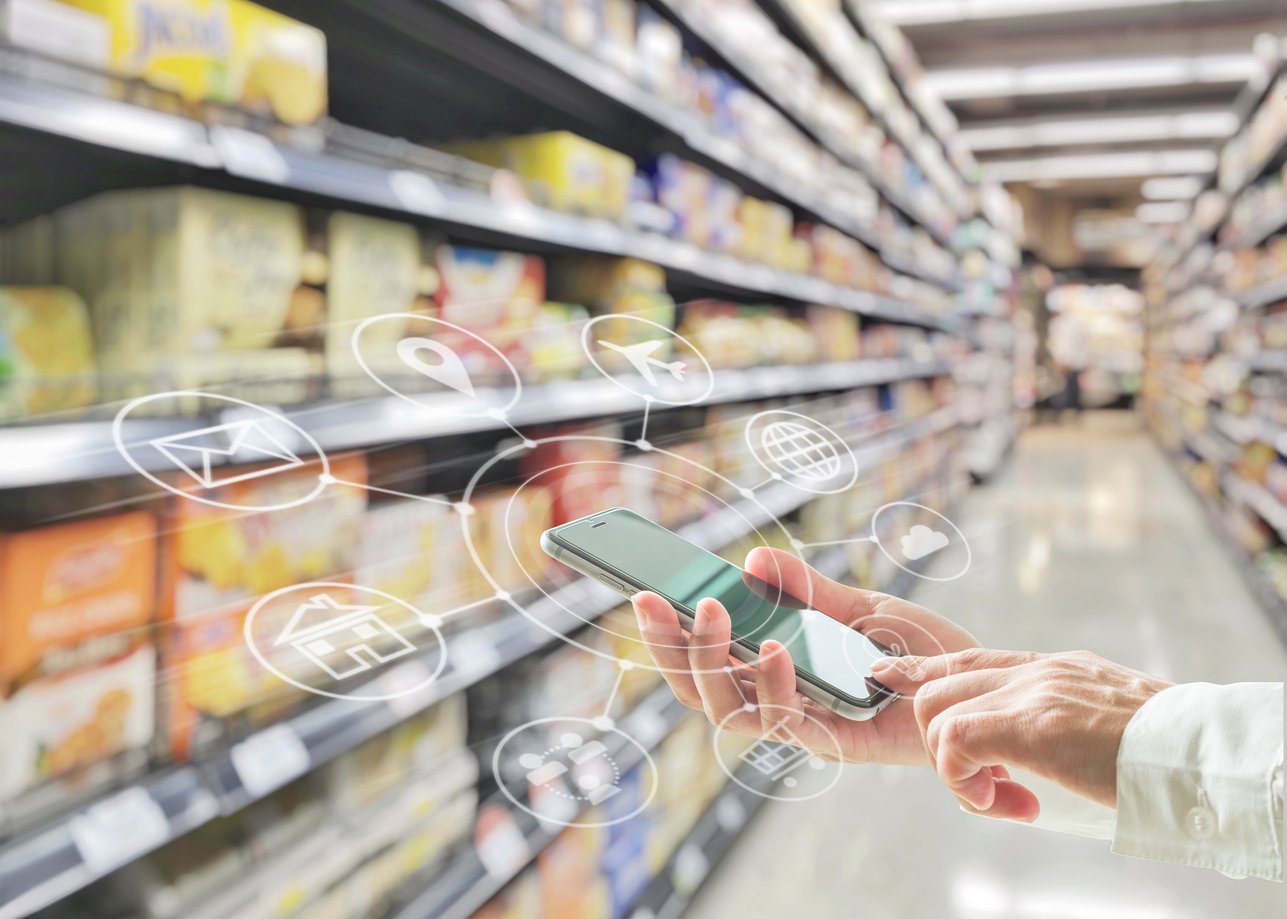 At its essence, omnichannel retail takes the best of online shopping - the ease, convenience and ability to harness user data to create a customised experience - and applies it to the physical space. It's a sort of physical-digital hybrid approach, providing the customer with an integrated overall shopping experience that allows for the seamless movement between shopping online and instore.
An example of the "ideas" borrowed from e-commerce could include multi-store inventory look-ups, in-location navigation, and mobile payment tools. A customer could browse a particular product instore and then scan it with an app to purchase later in a different size or style. And, your app could log both instore and digital purchases together, so that loyal customers can earn rewards points and get instant notifications when recommended new products released.
French-based, multi-national beauty retailer Sephora has been praised for its brilliant omnichannel Beauty Insider Rewards program as a way for developing stronger relationships between brands and consumers.
The pièce de résistance is the arrival of 'Beauty Hubs' in two shops in France. The Hubs contain a virtual lookbook, with thousands of options that can be tried out virtually using the in-store iPad station's augmented reality app. It can also fire off beauty recommendations and tutorials, either with or without the assistance of an in-store expert. Next, simply add your chosen goodies to your digital 'Beauty Bag' for purchasing in-store, or later online.

3. Interactive Digital Displays
Giant, eye-catching digital advertising screens have been a feature of Australian shopping malls for decades. But now, with LED screens injected with interactive digital technology, visual displays are much more than expensive banner ads.
As interactive technology continues to improve way beyond touchscreen menu kiosks, maps, and directories, retailers are experimenting with features such as facial recognition, allowing for better customer recognition, more targeted in-store displays, and more personalised customer service interactions.
Then there are examples like Kate Spade Saturday's shoppable windows, which prove interactive displays don't have to be placed inside the store to help drive sales. In fact, being quite novel, eye-catching and appealing to that innate human desire to touch and experiment, outdoor displays can work better than flashing neon sign at getting curious customers through the door.
What makes shoppable menus especially unique is that customers can browse and purchase items, even while the actually brick-and-mortar location is closed. Sidewalk shopping has gone sci-fi!
Digital signage, along with other technologies like digital product tags also serve another useful purpose in terms of the design of physical space. By eliminating the need for excessive signage (that constantly needs to be thrown out and printed from scratch with every new promotion), precious space can be freed up and devoted to the aesthetic side of retail interior design.


4. Artificial Intelligence
One thing AI has over a flesh-and-blood salesperson is it can dive right into the mindset of its customers – their wants, their needs, their shopping habits, how much time and money they spend on average and much more. AI analyses data over time to identify trends and behaviours, which it can then use to automate tailored product recommendations at exactly the right time.
AI does a lot more than just look at basic demographics and previous purchases. It gathers data on a customer's real-time location, values, their preferences, and purchase behaviours to determine accurate and actionable insights. AI can even be used to figure out the best way to engage with a particular customer.
Having conquered the e-Commerce landscape, Amazon's new cashier-less grocery store, AmazonGo, is attempting to revolutionize how we interact with traditional brick-and-mortar stores using AI.
Shoppers check-in through an app, while sensors through the store track which items are placed in their baskets. The obvious appeal of the cashier-less system, of course, the elimination of checkout queues and the ability to shop instore 24/7. Amazon automatically charges shoppers once they leave.
However, there's something much more profound at work with the entire 'Just Walk Out' concept. The entire store is filled with AI technology, which Amazon describes as "computer vision, sensor vision, and deep learning". The system recognises you and associates you with what you buy. It knows when you're tossing up between low and full-fat yoghurt. It knows you're attracted to bulk buy specials and put off by certain price points. Whether shoppers worldwide will embrace this 'consumer positive' but the relentless form of profiling remains to be seen.


5. 3D Printing


All the technologies we've mentioned so far have focused mainly on using digital and online tech to revolutionize our relationship with physical retail spaces. 3D Printing, on the other hand, deals with the purely tangible, but it's potentially one of the biggest game changers of them all.
Imagine you could walk into a store with a design and have your dream 'whatever it might be' 3D printed for you on the spot. OK, the technology isn't quite there yet, but we can trace its rapid progress through the ways it's already being leveraged by certain early adopters.
From an interior design perspective, 3D Printing is a totally unique technique when it comes to instore décor that's completely tailor-produced to space or brand. It's far less expensive and time-consuming and infinitely more customizable compared to say, traditional furniture manufacturing and can be used to create visually striking and expressive spaces. A furniture's functionality can be combined with unique form features to create personal statements and incorporate focal points that frame new ways of seeing and interacting with space.
The Loft flagship store in Ginza, Tokyo has wholeheartedly embraced 3D printing in interior design. One particularly intricate table design was influenced by Japanese paper folding art, something extremely difficult to achieve without conventional materials. By making the store more like a futuristic art gallery, you're almost certainly going to get curious design buffs through the door to snap an Insta or two.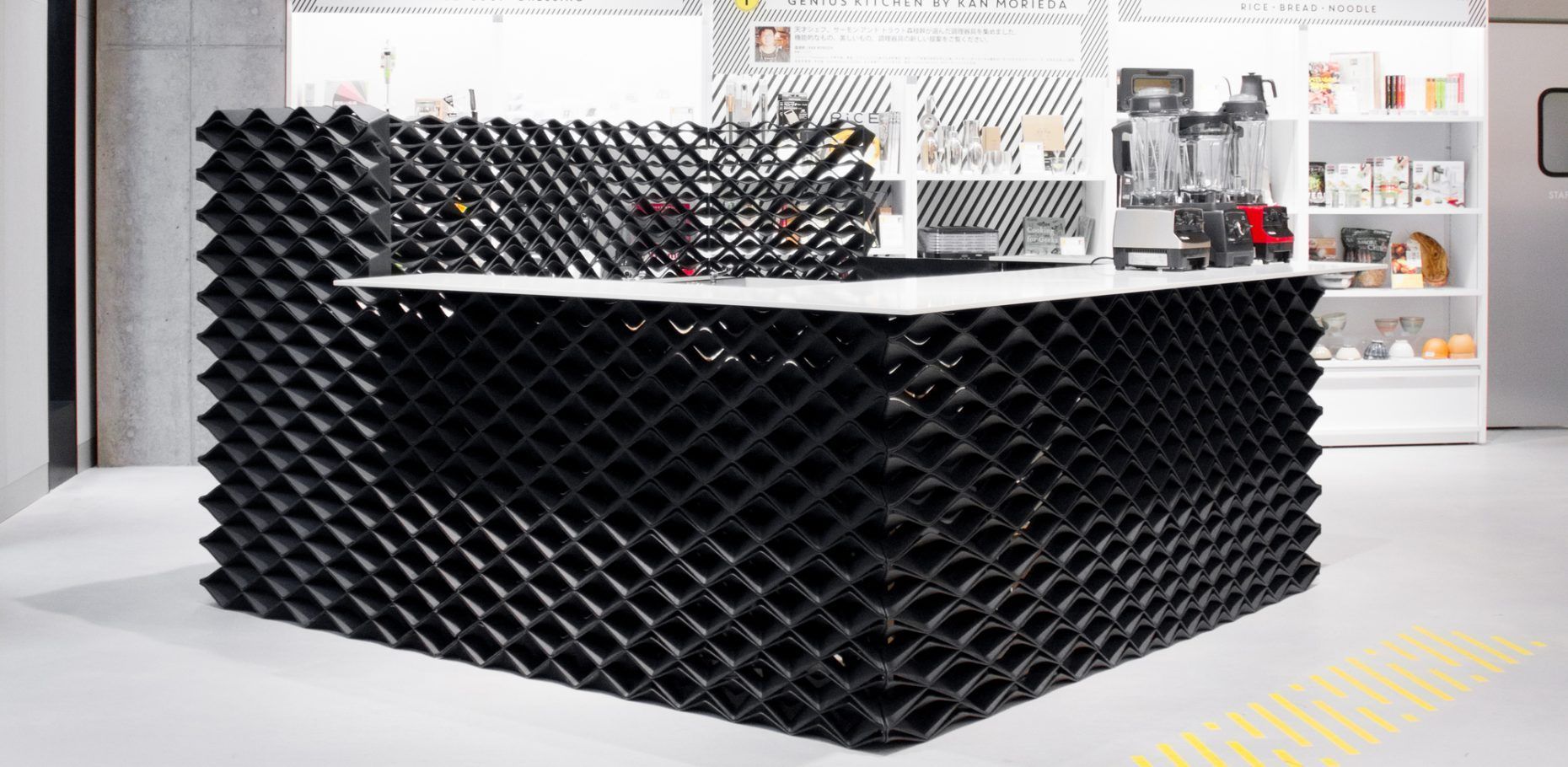 Rather than forever remaining rivals, online retailers and brick-and-mortar stores can not only co-exist but complement each other in the pursuit of creating stronger consumer-brand connections and richer experiences. From gaming to learning, banking to dating, humans are embracing hybrid digital/physical experiences. Judging by the pretty incredible technology already in stores, there's no doubt our shopping habits will follow suit.
---
Brands are combining creativity, technology, and data to reach their audiences. We're sharing the secrets of our success on how to design brand experiences so that you get a higher return on your investment. Follow the link and download your FREE copy.